At first, the idea of eating vegan struck me as strange.
What do vegans eat? cabbage and bland tofu?
Yuck!
But it's so much more than it seems, especially when you have place like Chaco Canyon Cafe in Seattle. This place is proof that vegan is much more than people realize.
Since Hubby and I have gradually changed our diet to (mostly) plant-based seven months ago, we've had some challenges finding good tasting food that's healthy too.
Chaco Canyon was like a food-tasting playground for us.
Parking was a little tricky on a Friday night, but Hubby nailed a spot around the block on the third try. And it was free since it was after hours.
The menu is posted on a chalkboard behind the front counter. Wheat grass juice, smoothies, espresso, sandwiches, soups, salads and desserts. The list went on and on.
Because their menu is 90-97% organic, prices were a bit higher than a typical restaurant. Since we didn't have a coupon, I was a little nervous we'd go over budget.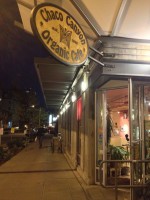 The lentil burger and lentil soup ($12.99) sounded amazing. I had never tried a lentil burger before, and wasn't in the mood for cold food. (Dinner should be hot, in my opinion). Hubby ordered the same thing, but with the dal soup. And we both got a cup of coffee.
After we ordered, we peeked around the corner at the dessert case. Oh. My. Goodness.
Cute little cupcakes with swirly pink poofs of frosting on top, a delectable peanut butter pie, coconut macaroons, and a rich looking chocolatey brownie. All vegan. No eggs, no dairy, no butter.
How did they get the frosting to look like the real thing?
I asked the woman behind the counter.
"Cashews," she replied back.
I was just about to order a slice of the peanut butter pie and a cupcake but Hubby said we should wait. He thought we might be stuffed when we were done.
So, we found a cozy little spot in a corner and sipped our coffee while we waited for our meals.
Chaco Canyon is decorated in a very Southwest style, which is a nice change when you're living in the Northwest.
It was  different crowd. A bunch of customers came in for takeout. We didn't see many couples on date night-mostly young people ( students from UW) and families.
Our meal was amazing. The lentil burgers were seasoned perfectly. The soup was hearty and filling.
I barely had room for dessert, but I just had to try that cupcake. So, after we ate, I asked Hubby to get one for us to share.
He came back with a brownie.
"Why do you have a brownie?" I asked
He gave me a deer in the headlights look.
"Oh my gosh. I don't know why I got the brownie. Probably because it looked so good-but I swear I meant to get a cupcake."
So, he went back and got a cupcake and two macaroons.
By the time we were done, I was so stuffed it was hard to walk. Embarrassing but true.
And we totally blew our budget here.
It came to about $50. More than double our usual $20.
So, we made the decision to skip date night next week to make up for it.
Overall it was a fun night and an exciting experience to try.
I can't wait to go back and try their breakfasts! (served all day).
Atmosphere (romantic appeal): 4. Chaco Canyon is pretty laid back. It's a good mix between casual and classy.
Budget friendly: 3+ If you're careful what you order and don't let the desserts tempt you, you'll do fine.
Food: 5. Tastes very homemade and full of flavor. Desserts were rich and delicious.
Fun and unique: 5. Trying something new always ups the fun factor.
Memorable: 5. I still can't forget how good that lentil burger was. Hubby said his was awesome too.
Details:
Chaco Canyon Cafe
(2 locations in Seattle)
Have you been here? What did you think?